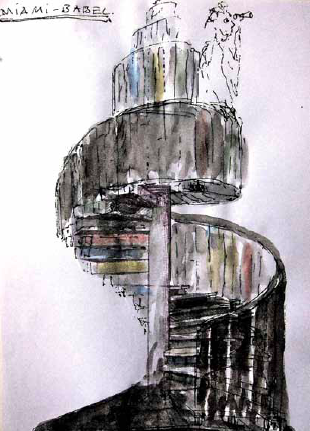 Miami Babel by Florian Borkenhagen
History, icons and myths can never be ignored. Hamburg- based artist Florian Borkenhagen utilizes his craft to reinterpret cultural archetypes and exemplify their endurance. The human desire to experience divine influence on daily life is undeniably strong. Towers represent hubris and limitations, while reflecting the will to gain spirituality and superstructure. The significance of the Tower of Babel is undeniable.
Miami Babel represents a facility to gain altitude and enlightenment. In a practical sense, it is an outlook. The materials and dimensions are derived from the transport industry - a classical 20ft container and pf pallets. The shape is reminiscent of the Minaret of Samarra (the original inspiration for many interpretations of the Tower of Babel) and combines in a joyful way the present, the past and the personal work of Florian Borkenhagen.